September 15, 2021
Good Afternoon Warren Students, Families, and Staff,
We have a few important announcements for the week of September 15th.
I want to remind our students that masks are a requirement on our school busses and in all school settings. Masks are to be worn so that they cover both the nose and the mouth. Parents and caregivers, we appreciate your support in reminding your students of these requirements.
Our Warren students, families, and staff are invited to attend the Pleasant Run Community Fest tomorrow, September 16th from 6:00 - 7:30 p.m. As part of the event and in partnership with Eskenazi Health Center, individuals 12 and older will have the opportunity to receive the COVID vaccination. Interested individuals are encouraged to pre-register at bit.ly/PleasantRunClinic. The Community fest will also feature an employment fair along with other information and activities.
Over the next two weeks, students in grades 3-12 will be taking our District survey through the Panorama platform. The purpose of this survey is to gain student voice on areas they feel successful, and also areas where they feel they need additional support or growth. School data from this survey will be used to guide school improvement efforts, develop professional development, and develop intentional lessons for students. The feedback from this survey also serves as a measure of success for our efforts in meeting the needs of the whole child. If you have any questions about this survey, please reach out to your child's principal.
To continue our investment in building relationships with our families and the community, MSD Warren Township in partnership with community partners is providing information and support for Warren families who might be in need of housing and rental assistance. Upcoming workshops will be held on Monday, September 20th, Tuesday, September 21st, and Wednesday, September 22nd. Hours and locations are on our District website under the NEWS feed. Please look for a flyer to come home this week with your child. If you have immediate questions, please contact Moorhead Community Resource Center at 317-532-3854.
MSD Warren Township in partnership with the Indiana Immunization Coalition will be providing a clinic to accommodate the flu shot, immunizations required for school age children and the COVID vaccine for individuals 12 years and older on Wednesday, September 29th and Thursday, October 21st at Moorhead Community Resource Center from 4:00 - 7:00. Families are encouraged to pre-register for this event. The registration link for the immunization clinic is patients.vaxcare.com/registration. After clicking on the link, enter the enrollment code, IN65942, and then select Warren Schools-9/29 or Warren Schools-10/21. Below are the required immunizations for school age children.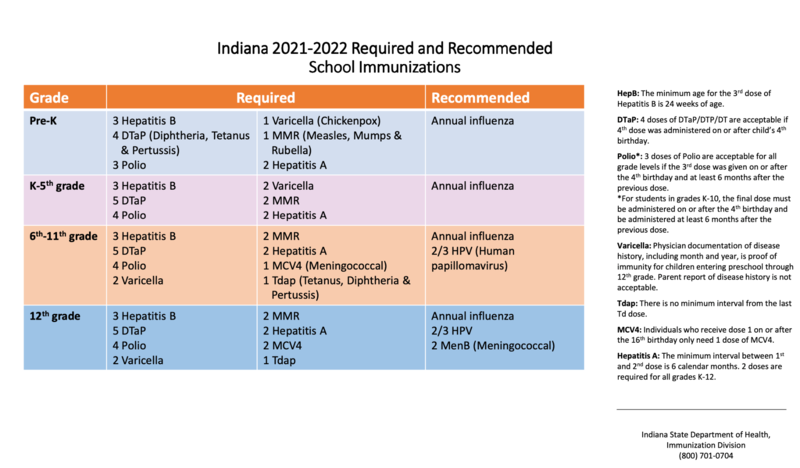 Thank you for your continued investment in Warren students and schools and have a great rest of your week.
Dr. Tim Hanson, Superintendent of Schools for MSD Warren Township