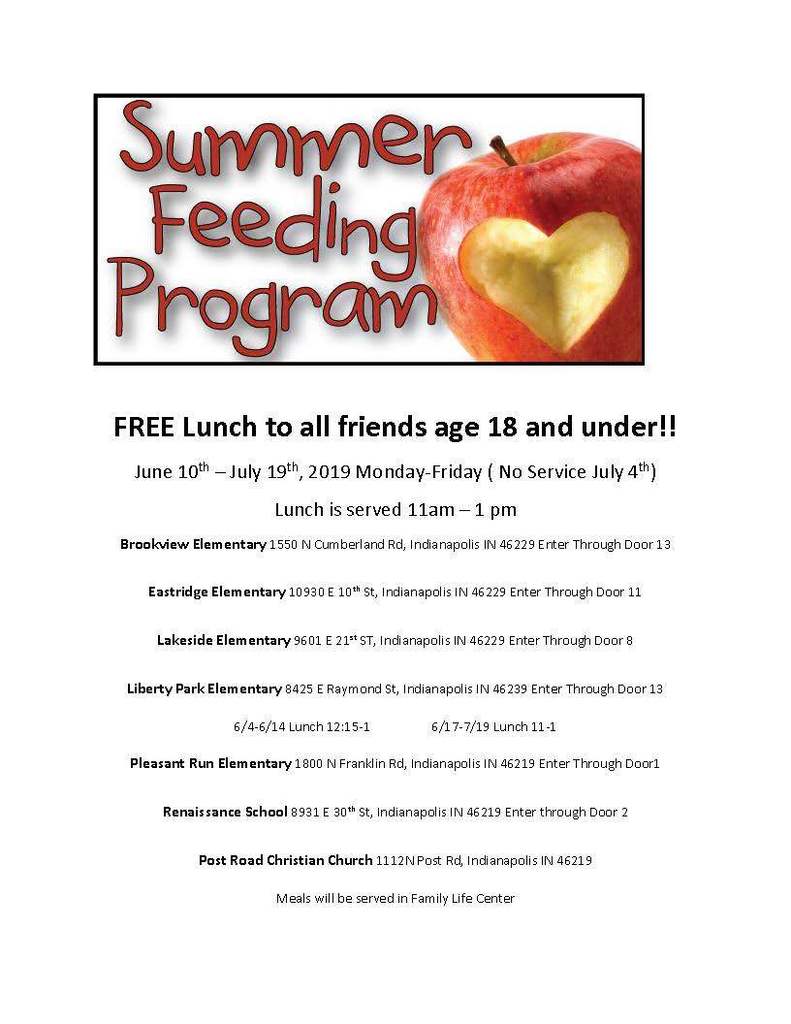 Registration is for PreK - 4 is tomorrow, Tuesday, July 16th from 12 - 8 PM. There is also registration for 5 - 8 on Tuesday, July 16 and Wednesday, July 17 from 12 - 8 PM. For full details, please see the registration flyer here:
https://5il.co/7tt1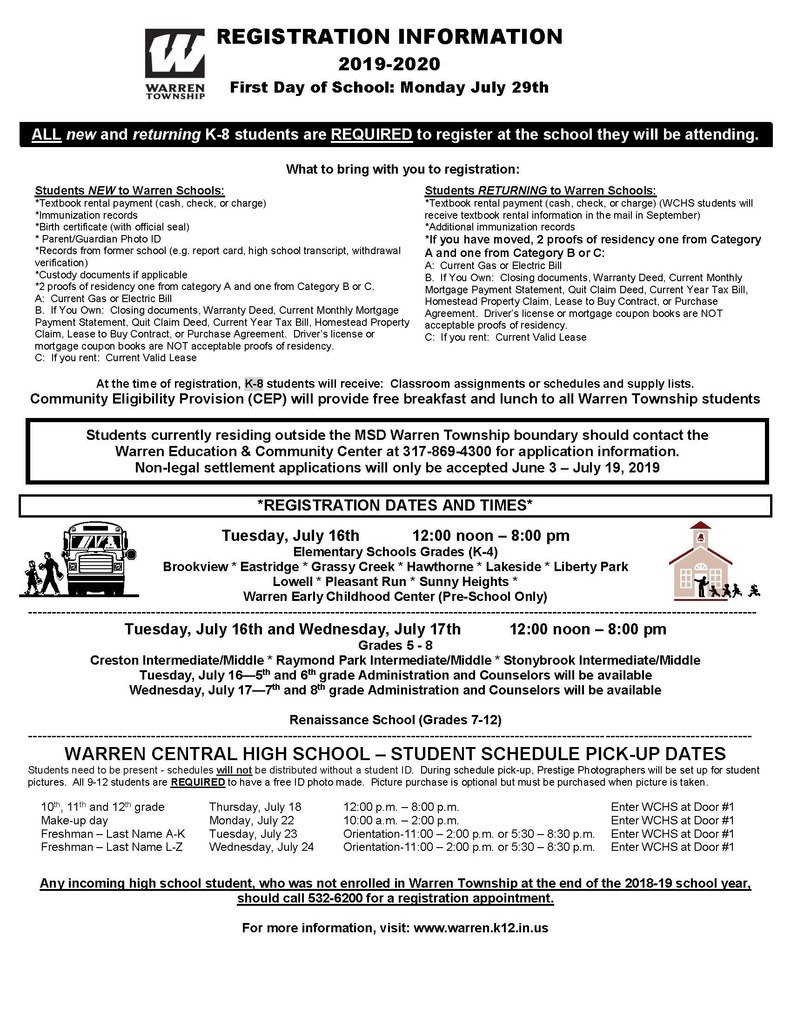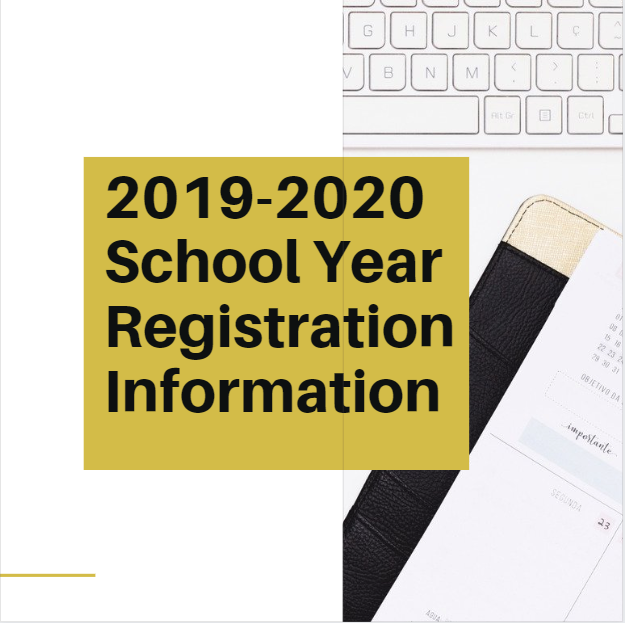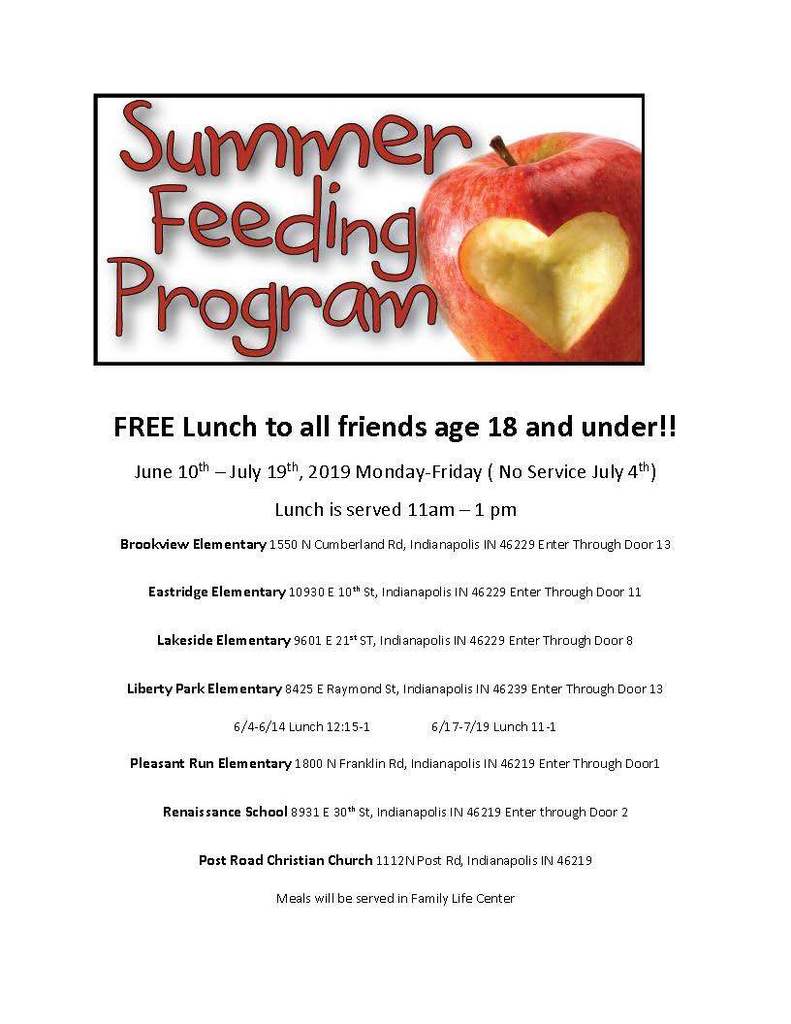 FREE lunch to anyone 18 and younger begins today at Brookview, Eastridge, Lakeside, Pleasant Run, Renaissance, & Post Road Christian Church (Family Life Center). Lunch is available from 11 AM - 1 PM. Liberty Park serves lunch from 12:15 - 1 PM this week. Adult lunch-$3 a person.

Congratulations to all of our students, families and staff on an outstanding 2018-19 school year! Hope that you have a summer filled with fun, family, and friends! Don't forget about our summer lunch locations! See you in July for the 2019-20 school year registration.
Wishing all of our students a safe, fun-filled summer break!

Wishing our students, families, staff and community a nice Memorial Day Weekend as we celebrate and honor those men and women who gave the ultimate sacrifice to serve our country. Please be safe and enjoy your weekend.

We welcome everyone to our 3rd and 4th grade graduation ceremony. The ceremonies will be held on May 31. 3rd grade starts at 10 am and 4th grade will be at 12:30 pm.

"Be a Rainbow In Somebody Else's Cloud" ~ Dr. Maya Angelou

"It does not matter how slow you go as long as you don't stop." ~ Confucius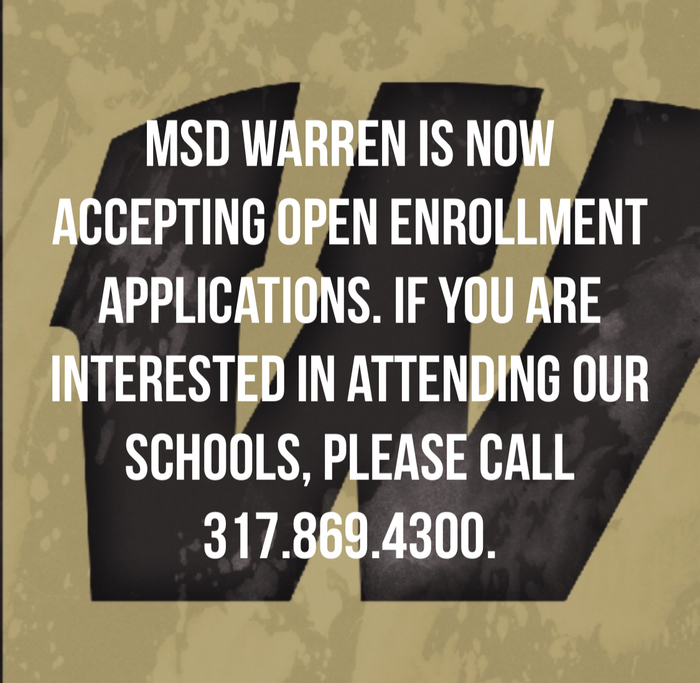 Make your plans now! The WC Girls Soccer Youth Camp for grades K - 8 will be held on June 17 - June 20 from 6:00 - 7:00 PM at 937 S. German Church Road. This camp is FREE!!! If you have any questions, please contact:
cburchet@warren.k12.in.us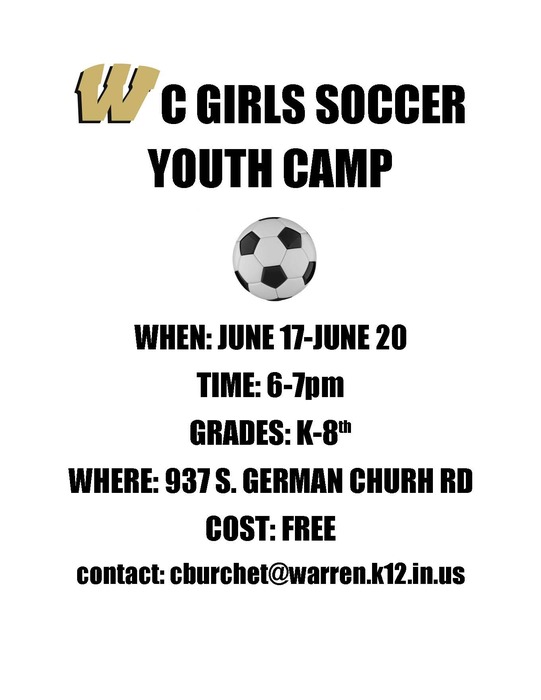 We welcome all of our Brookview Mothers to our Muffins with Moms this morning.

The end of the school year is always an exciting time with celebrations, recognitions, performances & preparations for the upcoming 19-20 school year. Stay informed of these events & other important information on our Warren app & Warren website. Have a great rest of the year!
Congratulations to our GlowBots Robotics Team for a wonderful experience at the Robotics World's Competition in Louisville, Kentucky.
Father-Daughter Dance is Tonight! 6-8:30 PM!
We are excited for our Glowbots Robotics Team to rock it out at the world's competition in Louisville, Kentucky-April 28-30!

Join us for our last skating party on April 30th at the Roller Cave from 6:00 pm to 8:00 pm !

"The goal of early childhood education should be to activate the child's own natural desire to learn." ~ Maria Montessori
Please come out and support our community night this Thursday, April 18 6-8PM.
"The whole world opened to me when I learned to read." -Mary McLeod Bethune

"An investment in knowledge pays the best dividends." Benjamin Franklin
Come out tonight and support STEAM night at Warren Central High School!
Who you are tomorrow begins with what you do today. #Monday Motivation

'Parents have become so convinced that educators know what is best for their children that they forget that they themselves are really the experts." Marian Wright Edelman

"Children must have at least one person who believes in them. It could be a counselor, a teacher, a preacher, a friend. It could be you. You never know when a little love, a little support will plant a small seed of hope." Marian Wright Edelman

"Education is for improving the lives of others and for leaving your community and world better than you found it." Marian Wright Edelman
It's a wonderful day! Our students are back to learning!
"The true character of society is revealed in how it treats its children." -Nelson Mandela
3 critical instructional days separate us from spring break. We still have important work to do!
Congratulations to our Glowbots Robotics Team! They are headed to the worlds competition in April!
Please support Brookview's 4 Robotics teams this weekend as they go for state championships at Lucas Oil Stadium!
Thank you Chartwell's for bringing Discovery Kitchen to our school!
Wellness Wednesday at Brookview!
Our student of the week is Delilah Peques! Delilah is a outstanding student who represents her family and school improvement well.
Please support our robotics teams this Saturday, March 9 at Lucas Oil Stadium- Robotics State Championship

Friday Night Live starts at 3:45 pm and ends at 6:00 pm today!
Leontyne Price was the first African American to become a prima donna at the Metropolitan Opera in New York, following the footsteps of Marian Anderson who was the first African American to actually sing there. #blackhistorymonth
Congratulations to all 4 of our robotics teams! All headed to the state championship on March 9!

The journey of a thousand miles begins with one step. --Lao Tzu
Black History Month Spotlight: Marva Collins was an education activist who started her own school in Chicago. She inspired thousand of students. She once stated, "Abraham Lincoln didn't learn to read until age 14. No one should rule any child out of the educational picture."
A big thank you to all the Warren schools that participated in the Math Bowl Competition. It was our pleasure to host this year's event.
Kindergarten students in Mrs. Jenkin's class have great attitudes about learning and life: We are loved! We are healthy! We are important!
Math Bowl Competition this Thursday at Brookview! Invitation begins at 5 PM
Black History Spotlight: Mary McLeod Bethune was an educator and civil rights activist. She advised many presidents and founded Bethune-Cookman College in Daytona, Florida
Students, Have fun and enjoy your three day weekend, but make sure you read a book! # Growth Mindset
Brookview's Daily Mantra: Every day, I'll do my best I will not quit, I will not rest Until my brain has grown a bit And I have learned how to do it If I fail, I'll be okay I'll just try a different way I'll say, "I just can't do it yet, " Because I have a growth mindset!

Check the News section for an exciting announcement about our NEW App and Website!